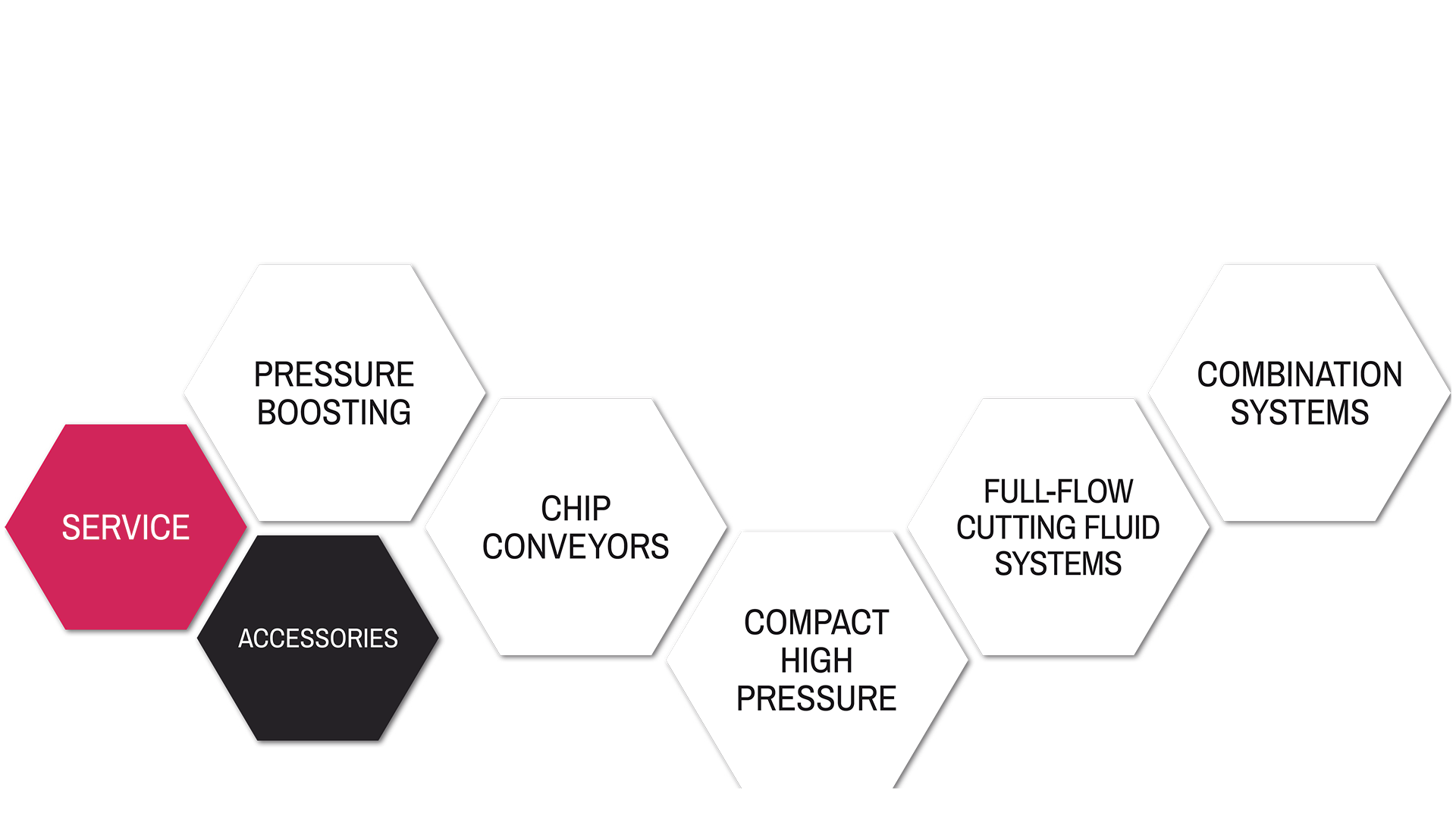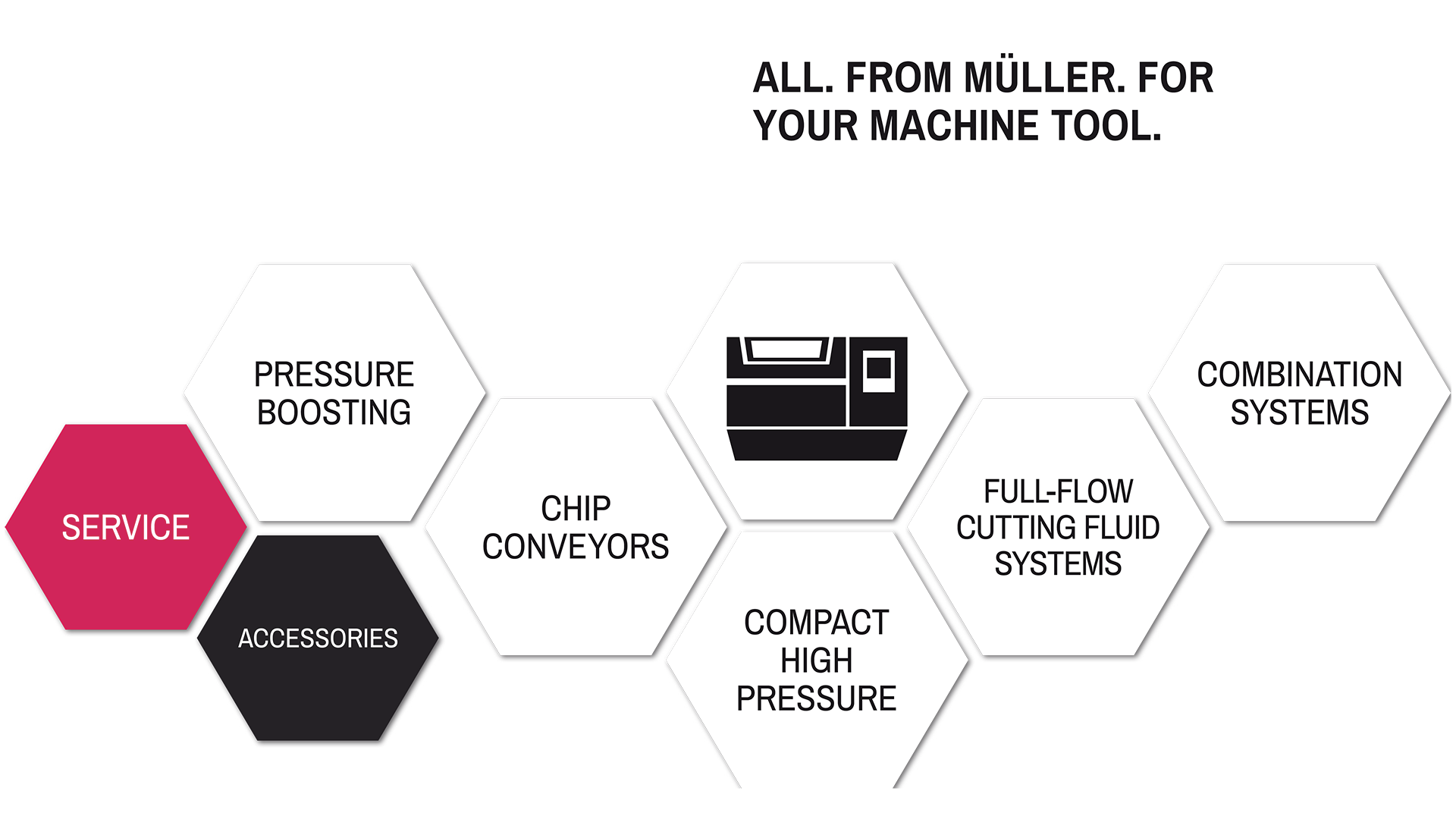 MAXIMUM COMBINABILITY
There are various partners in the field of cutting fluid high-pressure machining and chip management. Often, the search for the right solution for "ME" is like the proverbial search for a needle in a haystack.
With the unique concept of maximum combinability, Müller is now making life around your machine tool as easy and as efficient as possible. Because Müller offers you everything for high-pressure machining and chip management – with maximum combinability and optimally tailored to your machine tool and processes.

Maximum combinability means system-based simplicity, efficiency and smoothness. Because everything is perfectly tailored and matches.
KEY ADVANTAGES AT A GLANCE:
// A perfect match with the machine and production process:
+ Greater efficiency, more profit
+ Process reliability
+ Optimum operation
+ Resource conservation
+ Time saving, less stress

// One partner for your cutting fluid periphery – the right solution for you:
+ Effectiveness, security, convenience
+ Time saving, less stress
+ Synergies

// Predefined modular system components:
+ Uncomplicated connection
+ Speedy commissioning
+Efficient operation

// Standardisation in controllers and technologies:
+ Simple familiarisation
+ Safe operation
+ More efficient qualification
...

"A wide range of variants, a modular kit, maximum combinability plus the system partnership with leading machine tool manufacturers – this offers unique added value and reflects our customer focus."
Richard Huber, Head of Sales and Service Müller Hydraulik GmbH
OUR APPROACH IS YOUR PROFIT
From a system with entry-level products to absolute high-end solutions for maximum automation – benefit from countless solutions and combinations that promote your manufacturing efficiency and process reliability of sliding headstock lathes, short-turning machines, machining centres and much more to the greatest possible extent. Examples of use:
Left: Entry-level solution with chip conveyor chipstream CST1 and combiloop CL1 E, right: high-pressure machining solution on sliding headstock lathes with chipstream CST2 chip conveyor and combiloop CL3 E
Maximum automation: combistream CS4 with working chamber conveyor and tank bottom cleaning, combined with combiloop CL4 as a clean tank and a long parts box
"We have invested a lot of time analysing needs and understanding processes even better. It became clear that peripheral patchwork solutions are real efficiency killers! That is why we are continuously expanding our portfolio strategically to offer you everything relevant from a single source."
Martin Müller, Managing Director Müller Hydraulik GmbH
PRODUCT RANGE DEVELOPMENT WITH THE FOCUS ON MAXIMUM COMBINABILITY
Whether it's the most powerful best-in-class high pressure in the STAR HSLII loader, cooling lubricant high-pressure entry-level system combiloop CL1 G for temporary use, aesthetically functional pressure booster pump combiloop CL1 B for reliable constant pressure, high-quality chipstream CST1 chip conveyor with anti-chip coalition, first closed high-pressure system for machining centres combiloop CL6 G with integrated disinfection and much more – with great passion we are expanding our product range this year, in order to make working with cooling lubricant high-pressure machines and chip management systems even more convenient, safer and more efficient for you. Discover a few of the most combinable new products here:
Using the combiloop CL1 B pressure boost solution, in next to no time, you have created a self-sufficient supply solution: process reliability with up to maximum 25 bar and with a cooling lubricant flow rate of up to 60 litres.
Highly-aesthetic, highly-functional and robust, the new Müller chip conveyors enrich modern production processes – with a clever anti-chip coalition, integrated oil mist suction and much more!
Take your machining efficiency to the next level: The innovative, modular configuration, from the disinfection to the cooler, not only brings better machining results, but also boosts profitability, sustainability and saves space.
Do you have a question about maximum combinability or our new products?
We will be happy to help you. Send an e-mail to sales[at]muellerhydraulik.de or give us a call on Tel. +49 (0)741-174575-0. You can also use the contact form at the bottom of the page. We look forward to your questions and comments.

---
MORE INFORMATION? INQUIRY? REQUEST?