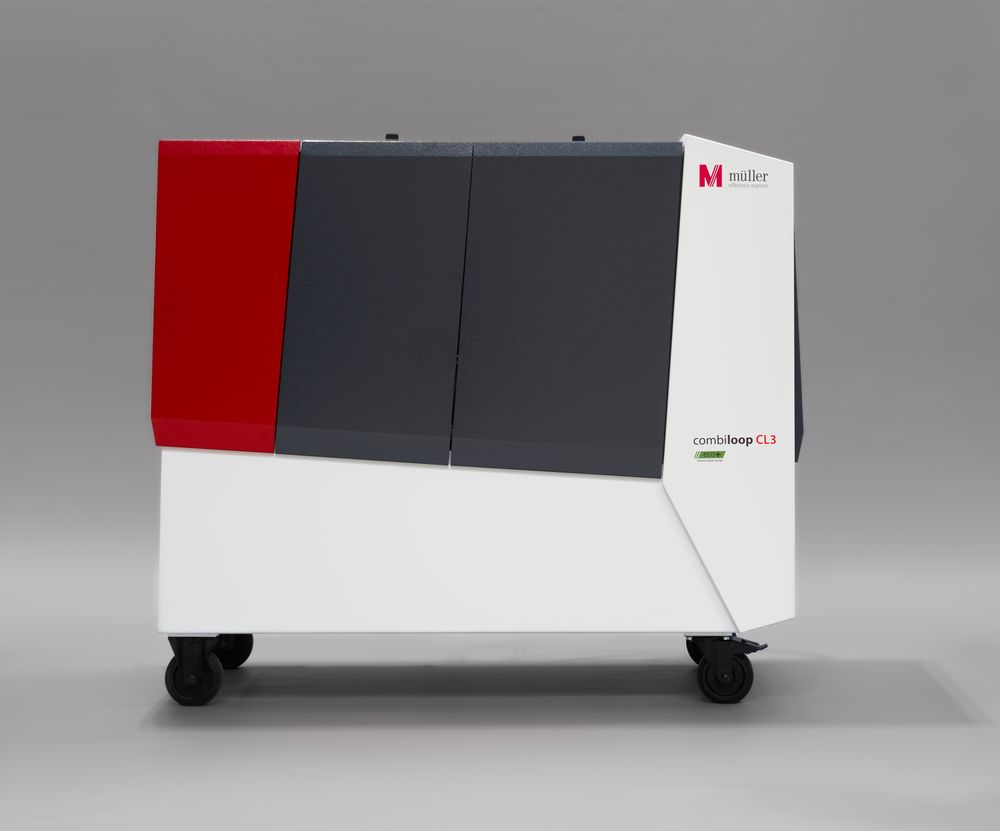 // 100% sophistication in design, maximum compactness and unbeatably user-friendly – the new combiloop CL3 G.
As of now, the combiloop CL3 G appeals not only on sliding headstock automatic lathes, but also on all small and medium-sized lathes and machining centres – and in oil as well as emulsion. In the new combiloop CL3 G, temperature stability and exceptional oil efficiency go hand in hand with the smallest footprint for flushing capacities of up to 60 l/min in emulsion. Sustainability and Industry 4.0 safety features as well as a 250-litre clean liquid tank are standard features of the sophisticated, beautifully designed high-pressure system.
"The good shape is a DNA element of ours. The technology is wonderfully accessible, and tighter installation situations can also be realised. All that, despite the 250-litre clean liquid tank with this compactness and high-performance efficiency technologies. combiloop CL3 G was a top product in the field of long lathes, of precision processing. With this new generation, we offer a single system concept that is ideal for the field of long lathes as well as for all operators of medium-sized lathes, turning and machining centres," Martin Müller, Managing Director of Müller Hydraulik GmbH, sums up the new flexibility in operation.
Energy as a production factor – act now and rely on efficient technologies
Energy is a critical production factor. And is going to be even more so. The self-regulating eco+ piston pump in the combiloop CL3 G saves between 20 and 45% of energy costs compared with frequency-directed drives. As well as having the smallest spatial requirements and providing up to 300 bar pressure, which make machining much more profitable and environmentally friendly.
"We've had a very simple guiding principle since 2005: why generate energy if you can avoid it? And the pressure-controlled piston pump is simply the optimum here," says Jürgen Müller, explaining the pioneering role in efficient, sustainable high-pressure generation.
// The energy and temperature-efficient regulating piston pump (bottom left) is ideal for the smallest deep-hole drillings and internal machining that require high pressures with the lowest flushing capacity (up to 0 l/min). Even with large-volume chip flushing, the pump is always ready for use in milliseconds. Conclusion: you save money – with the maximum output and smallest possible energy input.
Essentially, the efficiency of the self-regulating eco+ piston pump is based on these three factors:
high efficiency with low drive power
regulating effect during the process and avoidance of heat loss
high-pressure machining with the lowest possible heat transfer
First, the high-end eco+ regulating piston pump requires significantly lower drive power. In addition, the self-regulating eco+ piston pump only supplies the volume flow to the CL system that is actually required for machining. The smallest volume flows of up to almost 0 l/min are possible. A frequency converter-based solution can never control the smallest flow rates, but always has a flow rate of at least 30%, and therefore a maximum of 75% control effect compared with the Müller eco+ regulating piston pump solution. What must also not be underestimated is the heat dissipation power of the frequency converter, which can be up to 12%. If the frequency converter is installed in a control cabinet, it will also require cooling. And finally, the control effect carries significantly less heat into the medium. This in turn ensures higher temperature stability in the medium and better, process-reliable machining as well as – depending on the load and machining – avoiding the need for an additional cooler, which again has a positive effect on the ecological footprint and operating costs. The self-regulating eco+ piston pump also appeals for its long service life, which reduces potential downtimes and ensures maintenance costs are manageable.
combiloop CL3 G – a peerless game changer for the highest machining standards
"The new combiloop CL3 G is probably the musketeer among high-pressure systems – and a 'muscle-teer' to boot. It saves operating costs, increases efficiency and is proven to increase profits," Martin Müller concludes. "It is peerless in terms of precision turning and for high-strength materials – up to 300 bar and 27 l/min with the lowest possible heat transfer. It's a real game changer for all medium-sized turning and machining centres. Because it simply has the smallest footprint on the market with the highest level of readiness – at 60 l/min and up to 70 bar."
---
The advantages at a glance:
// Saves up to 40% energy compared to other high-pressure technologies
// Three dynamic filtration concepts for the longest service life and maximum flexibility
// All flushing capacities from 0 to 60 l/min via eco+ regulating piston pump with no power dissipation
// Up to 300 bar plus 250-litre clean liquid tank with the smallest footprint and greatest efficiency
// One machine concept – maximum flexibility in use